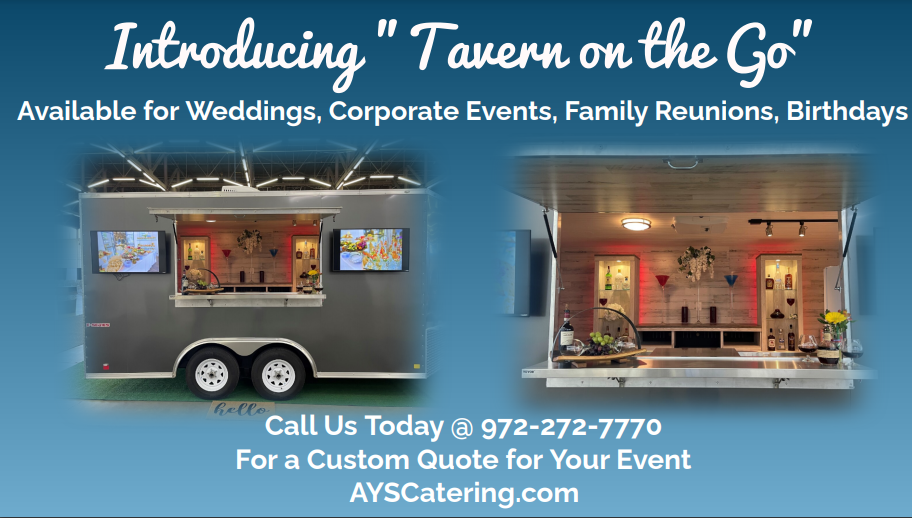 Mobile Bar - Food Truck
This unique mobile beverage service concept has been on John's and Alice's minds for quite some time. We have now launched our first mobile bar service vehicle in the Dallas – Fort Worth Texas. Whether it's a wedding, corporate event, family get together, employee entertainment, or client party it compliments every occasion. Our Mobile Bar Service in Dallas Tx is the unforgettable experience for your next big event. We are literally bringing the Party to You! Creating a unique party atmosphere virtually anywhere!
Planning a tail gate party? Outdoor roasting marshmallows with friends? Planning a rehearsal dinner or wedding reception in Dallas?
Traveling Spirits Mobile Bar is perfect for any occasion . . . holidays parties, corporate events (a great new way to thank your customers, employees & vendors!) Service for non-alcohol options for the little ones include shaved ice snow cones, great for a child's birthday party!
Our Mobile Bar provides everything you need for your event – drink ware, mixers, and more! Our mobile bar is fully stocked and ready to party. We take care of everything, are fully insured and certified staff! When it comes to hosting the perfect event, the sky is the literally the limit. We work with event coordinators, wedding planners, homeowner associations, and we also partner with local universities & charities. For fundraising events, we will donate a portion of our proceeds to help local charities to assist our local communities.